PROUD TO BE THE #1 RATED LOCKSMITH IN Church brampton.
5 Star rated local company offering all locksmith services in the Church Brampton area.
Reliable and punctual emergency 24/7 locksmith service.
We guarantee a fantastic response time when you choose our locksmith service in Church Brampton.
M&L Locksmiths has consistently won the
"THREE BEST RATED" award from 2019 – 2023.
Fast and reliable emergency local Church Brampton locksmith services – 24/7 access with a 30-minute response time and exceptional customer service.
At M&L Locksmiths, we understand that getting locked out of your home or office can be a stressful and inconvenient experience. This is why we offer dependable and lightning-fast emergency professional local locksmith services – 24 hours a day, so you can return to your daily routine as quickly as possible.
Our highly experienced Church Brampton locksmiths have the latest tools and technology to resolve your door or window locks issues, from simple lockouts to complex security systems. Our locksmith services also include transparent pricing. As Church Brampton's No.1-rated locksmith, we are confident that we can fulfil all your security needs.
Meet Our Top-Rated Locksmith Church Brampton Team
At M&L Locksmiths, our friendly and hardworking Church Brampton locksmiths have many years of industry knowledge and experience. We are also experts in dealing with all types of British Standard locks, including garage, window, and door locks. As we adopt a fast and professional approach, we offer domestic and commercial locksmith services to clients across the wider Northamptonshire area.
If you need assistance with your window, door lock or car keys, our local Church Brampton locksmith services are just a phone call away.
How Can Our Church Brampton Locksmiths Help?
We recognise the importance of keeping your property and loved ones safe and secure. For this reason, we offer a range of professional local locksmith services designed to meet your every security need. With our commitment to transparency, affordable pricing, and exceptional customer service, you can rely on us to deliver the best possible experience.
24 hours a day emergency locksmith services
Our local locksmith services are available 24 hours a day. We have the tools and expertise to unlock doors, windows, or garages quickly and safely without causing any damage to your lock or property. With a commitment to an efficient service, we aim to provide a stress-free experience no matter what the time of day.
Lock installation and repair
Whether you need a lock repair or a lock replacement, our expert locksmith Church Brampton team has the necessary skills and equipment to do the job quickly and efficiently. As a company that prides itself on only supplying and fitting the best locks, we will be able to recommend the most suitable options based on your specific needs, whether that involves enhanced security, convenience, or aesthetics. In addition, if you have experienced a break-in or an attempted break-in, we can help assess the damage and carry out the necessary repairs to restore or even enhance your property's security.
Key duplication and replacement
Having duplicate keys cut is a convenient way of ensuring a spare is always available, whether it's car keys or door keys. Our trusted locksmith in Church Brampton can quickly and accurately duplicate keys using the latest technology and equipment, ensuring a precise match to the original key.
We can also provide a replacement key in case you lose yours, cutting and programming it to match the specific lock. As customer satisfaction is the main priority for our local Church Brampton locksmith services, we promise to provide high-quality keys.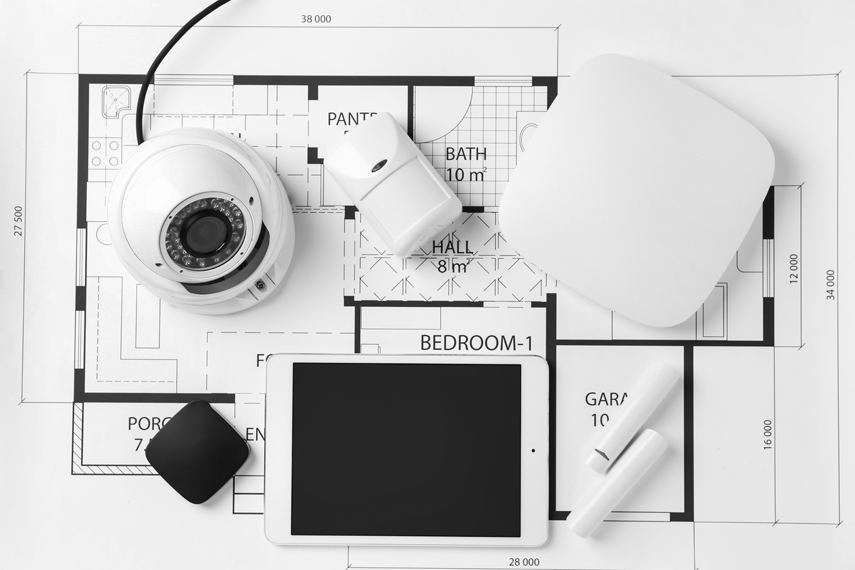 Smart alarm installation
As Church Brampton locksmiths that people can trust, we can also install a smart alarm to enhance the security of your property and protect you from potential threats. We can design and install a customised system based on the specific needs of your home or business, whether you require a simple alarm system or a complex network of cameras and sensors
Call M&L Locksmiths today for a free no obligation competitive quote.
What is a British Standard lock?
British Standard locks are those that have been certified by the British Standard Institution (BSI) to ensure their quality and reliability. All BSI-certified locks have a kite mark on both the packaging and the product itself, and this can be a huge help when insuring your home or filing a claim. For instance, if a theft has taken place at your property, the insurance company may reject your claim if your locks are non-standard.
Moreover, installing non-standard locks can lead to higher premiums. This is why we would urge you to always use BSI-certified locks for extra convenience and peace of mind. Indeed, our locksmiths in Church Brampton always use the standard locks in our installations. Furthermore, to boost your security and reduce the risk of your insurance being invalidated, we will work with you to ensure that all your locks comply with the highest standards.
I have lost my keys. Should I change my lock?
As experienced Church Brampton locksmiths, we encourage you to replace your lock if you have lost your keys. This will help reduce the risk of someone creating copies of your key to gain access to your home.
I am moving home. Should I change the locks on the new house?
Changing locks should be one of your main priorities when moving to a new home as you will have no idea who has copies of the keys. In fact, if you were burgled by someone with a key to your home, it might affect your ability to make a successful claim on your insurance.
My key snapped in the lock. What now?
Don't worry. We can help by quickly sending an emergency locksmith to your property. We do not recommend trying to remove the key yourself, as this may cause further damage to the lock. Depending on where the snap has occurred, we may be able to remove and repair the lock. However, there may be instances when we must replace the lock entirely.
What are the requirements for insurance approved locks?
It depends on your insurance provider. Most insurance policies require external doors to be fitted with locks that comply with British Standard BS3621. In other words, there must either be a five-lever mortice deadlock/sash lock or a multi-point locking system/rim automatic deadlatch. We encourage you to check your insurance policy; if you are still unsure, contact your insurance company. Whatever the requirements, our Church Brampton locksmiths can help you find the best insurance approved locks for your property.
How much does a local locksmith cost in Church Brampton?
Typically, the cost of Church Brampton locksmith services will vary between providers and will depend on the type of assistance you need. If a problem arises, do not hesitate to contact our trusted Church Brampton locksmith to request a free quotation.
Which professional locksmith services do you cover?
Although we provide Church Brampton locksmith services, we have engineers and technicians stationed throughout Northamptonshire, Milton Keynes, Church Brampton, Kettering, Wellingborough, Market Harborough, Towcester, Rushden, Thrapston and Burton Latimer.
How quickly can a locksmith in Church Brampton get here?
We have emergency locksmiths on the road most of the time, and in an emergency, we try to get our technicians to you within 30 minutes. If there are no time constraints, we can schedule a suitable time for our local locksmiths to visit.
Do you provide locksmith services on evenings and weekends?
Yes. Our Church Brampton locksmiths can help with all lock emergencies and related jobs 24 hours a day, 365 days a year.
Can you fix a lock without breaking it?
Our locksmiths in Church Brampton always try to fix and open all the locks without damaging the door or lock, which helps keep the price down. However, sometimes, we may have to break the lock as a last resort. Rest assured that we will always advise you of the cost before proceeding with any work.
I'm in a rush. How long will it take?
This will vary depending on the type of lock and its condition. For example, repairing or replacing a Yale lock usually takes 20–30 minutes. Meanwhile, a mortice lock may take a little longer (about 40–50 minutes). Our emergency locksmith services provider also includes a quotation.
Will you have the parts to fix my lock?
In most cases, we will have all the necessary parts to fix or replace your lock. However, on rare occasions, we may need a particular lock, part, or mechanism we don't carry in our van. In this instance, because our local Church Brampton locksmith services only charges a single call-out fee, there will be no need to pay any extra for their return visit to complete the job. Furthermore, our locks are of the highest quality, and we offer a six-month guarantee on parts and labour.
Why Choose Us?
Our Church Brampton locksmith is dedicated to delivering high-quality results. With a commitment to optimum customer satisfaction, our goal is to provide the best services for every job and every client.
Six-month guarantee on all our work
Our Church Brampton locksmith services offers a six-month guarantee, ensuring you peace of mind.
 Highly trained and experienced technicians
Our team of Church Brampton locksmiths have a wealth of experience, having been in the industry for many years honing their skills and expanding their knowledge. Due to their collective experience, they will always be able to offer a high level of expertise and professionalism to all our customers.
 Well-versed in all types of British Standard locks
At M&L Locksmiths, we possess the necessary expertise to work with all types of BSI-certified locks, including commercial locksmith services. No job is too big or small for us to handle, and we are always ready to help our clients with their lock-related needs.
 30-minute response time for emergency call-outs
Because a problem can arise at any time, we also offer a rapid 30-minute response time for all emergency call-outs. Whether you have been locked out of your home or your office, or you have a security issue that requires immediate attention, our emergency locksmiths will be on hand to help you as quickly as possible.
 Free, no-obligation quotation
At M&L Locksmiths, we believe in transparent and fair pricing. As such, we offer free quotations for domestic and commercial locksmith services, with no obligation to commit to anything. In this way, customers can make informed decisions about their lock-related needs without any pressure or hidden costs.
Customer Reviews and Testimonials
Our Church Brampton locksmith is dedicated to delivering high-quality results. With a commitment to optimum customer satisfaction, our goal is to provide the best services for every job and every client.
Had a problem with the lock on my front door. The locksmith arrived really quickly (within about 20 mins of coming off the phone) and was able to diagnose the problem and change the lock (for a very high-quality lock).
Fixed my back door which wouldn't shut. Was at my house within an hour, quoted up front and made sure I was 100% happy before leaving. Friendly guy, happy to recommend! Thank you!
Quick response and quality work. Thank you again. We have used M&L locksmith services three times and they have been excellent every time. Highly recommend.
Have used this Church Brampton locksmith services before and found Meidan to be very polite and professional in his work. Very efficient and a reasonable price. Would strongly recommend and I'm sure will use again in the future. Thanks again Meidan!
Contact Our Church Brampton Lock and Key Specialists Today!
Whether you require a lock or key repaired or replaced, emergency or otherwise, our local locksmith services can provide the expert solutions you need. Please get in touch via the contact details listed below or by completing the form on this page to request a free, no-obligation quotation.
Call us on 07423 727 086!